If you are buying commercial property – new or old:
HAVE A THOROUGH COMMERCIAL INSPECTION
What our clients say
The Top 6 Reasons to hire A to Z Commercial Inspections

REPUTATION
The Choice when companies need the best commercial inspections.

CERTIFICATIONS
We have the expertise and experience in all phases of commercial inspections.

TIME
Our Team of specialists is ready to mobilize in Your time frame.

ADA Inspectors
Our certified inspectors thoroughly access and photograph each area of your property to ensure everyone has a safe and accessible experience.

PCA Inspections
We have the Property Condition Assessment Certification from CDW Engineering and our report gives clients the details of a property.

Risk Assessment Matrix
Statistical data is provided for informational purposes on items inspected noted in the report.
Brad Rice explains how his clients are helped by the high quality of A to Z Commercial Inspections.
Brad Rice, of the commercial real estate firm Newmark Robinson Park, speaks about how thorough A to Z Inspections is on his clients' commercial properties. The inspectors identified things that affected the contract, and the clients were able to close with a lot of knowledge. Also, they were able to renegotiate the contract.
Schedule your inspection now
Reputation in commercial inspections
The National Cowboy & Western Heritage Museum
Oklahoma Gas and Electric
Oklahoma Department of Commerce
Dollar General Stores
Oklahoma City Community College
Rose State College
Grant Square
St. Jude Dream Home Giveaway
OKC Metro Association of Realtors
Trilink Restoration – 50,000 sq. ft. facility
Fields Properties in Texas, New Mexico, OKC
Copper Ridge Apartments!
Country Inn and Suites, in Oklahoma, Arkansas
Aspen Walk Apartments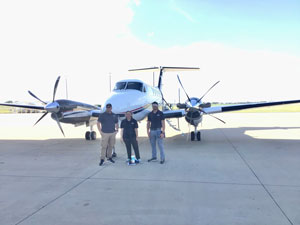 A to Z Inspectors flying out
HAAG Engineering certification
Property Condition Assessment Certification from CDW Engineering
GASTITE certified
NAHB Master Instructor
EPA certified on Water Treatment Septic Systems
Asbestos EPA Training
EPA Certified lead based paint trainers
Energy Auditor
Thermography certified
Construction Degree from OSU
We inspect the complete building and property. Our commercial inspections include, but are not limited to: pools, spas, wells, septic systems and radon testing. A to Z Inspections is the one stop shop that can include a termite inspection, ductwork scoping and drain scoping.
You don't have to wait on other specialists, we bring them all.
It's always about the Numbers
We provide statistical data for informational purposes only, it's not a statement of warranty. The assessments are on items discovered in the commercial inspections and based on repairs/replacement as noted in the report. Other issues that may be discovered upon repair/service are outside the boundaries of this assessment.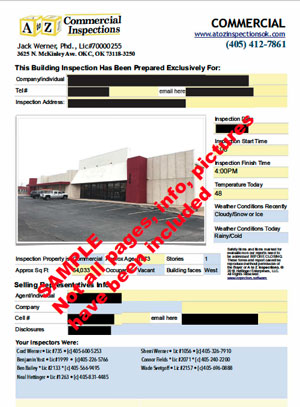 Sample report-click on image
Budget for total repairs/replacement over 5 years
Budget for immediate repairs
Estimated years to repair/replace